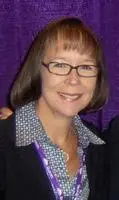 Reg is a Marriage and Family Therapist and Mental Health Counselor specializing in individual, couples and family therapy, and maintains a private Telehealth practice in Florida.
She began practicing in the field of mental health in 1984 while in college at University of Florida. After graduation she moved to Orlando, FL to practice in a large multidisciplinary medical and mental health group practice followed by private practice. 2020 brought many changes including closing her brick and mortar practice in Windermere, FL and moving to Telehealth.
Reg was introduced to EMDR Therapy in 1995 and found it effective in a broad range of struggles clients present with. She was invited assist other therapists on their training journey in 2000. In 2008 she became a EMDR Therapy Trainer and continues to train and consult today. In 2020 Reg provided 5 EMDR Therapy trainings and 10 Advanced EMDR R-TEP/G-TEP trainings, including Australia.
Reg's therapeutic approach is to provide support and practical feedback to help clients effectively address personal life challenges and transitions. She integrates complementary methodologies and techniques to offer a highly personalized approach tailored to each client. With compassion and understanding, she works with each individual to help them build on their strengths and attain the personal growth they are committed to accomplishing.

Outside of work, Reg is a mother to two great kids. Reg's first husband died 1/2011. After working through grief and loss, Reg found a new amazing husband and remarried. Reg has traveled in and outside of the US all her life and will jump at the chance to explore more of what the world is all about and the people living in it. For recreation she enjoys going to the gym, One Wheeling, Scuba diving, bike riding, walking the beach, games, reading, listening to music and watching movies.
Education:
B.A. in Psychology from the University of Florida
M.Ed. and Ed.S. in Mental Health Counseling and Marriage and Family Therapy Counselor Education University of Florida

Licenses
Florida licensed Marriage and Family Therapist MT1352
Florida licensed Mental Health Counselor MH2434
Credentials & Certifications:
National Board Certified Counselor, NBCC
EMDRIA Certified, EMDRIA Approved Consultant
Awards:
EMDRIA Regional Coordinator of the year 2010
EMDRHAP Elizabeth Snyker memorial award for volunteer service 2014
Central Florida Association for Marriage and Family Therapy Distinguished Service Award 2013

Professional Associations:
EMDRIA: Eye Movement Desentization Reprocessing International Association www.emdria.org
ISST-D: International Society for the Study of Trauma and Dissociation www.isst-d.org
AAMFT: American Association of Marriage and Family Therapy Clinical Member www.aamft.org
CFAMFT: Central Florida Association for Marriage and Family Therapy, Past President www.cfamft.org
Advanced Specialized Trainings in specific models beyond graduate school

EMDR
Basic Level 1 October 1995, Basic Level 2 with Dr. Francine Shapiro August 1996
EMDRIA Annual conferences: 1997, 1999, 2000, 2003, 2004, 2005, 2006, 2007,2009, 2010, 2011, 2012, 2013, 2014, 2015, 2016,2017, 2018, 2019, 2020
EMDR Therapy Trainer Intensives with Dr. Francine Shapiro February, 2007 and June, 2008
R-TEP (a speciality in treating recent trauma) September, 2010, April 2012 with Elan Shapiro and Brurit Laub

Emotion Focused Therapy for Couples
Creating Connection: Emotionally Focused Couples Therapy with Dr. Sue Johnson May 6-9, 2004
5 day EFT Externship with Dr. Sue Johnson in Ottawa, Canada September 20-24, 2004
EFT Core Skills weekend 1 with Dr. Gail Palmer February, 2005
EFT Core Skills weekend 2 with Dr. Gail Palmer August 12-14, 2005
EFT Core Skills weekend 3 Deepening the Engagement with Dr. Gail Palmer January 13-15, 2006
Emotion: Focused Psychotherapy: The Transforming Power of Affect with Dr. Leslie Greenberg February 24, 2006
EFT Core Skills weekend 4 Emotional Engagement and Consolidation of a Secure Base with Dr. Gail Palmer January 12-14, 2007
4 day EFT Extenship with Brent Bradley and Rick Lee November, 2010, also helped to facilitate this externship
Facing the Dragon Together: EFT with Traumatized Couples May 13-16, 2016 Dr. Sue Johnson
Hold Me Tight: Seven Conversations for a Lifetime of Love workshop March 17-18, 2017 with Rebecca Jorgensen Ph.D, and can now provide the Couples Workshop to others.
The Gottman Method Couples Therapy
Level 1 Clinical Training: Gottman Method Couples therapy: Bridging the Couple Chasm January, 2016
Level 2 Clinical Training: Gottman Method Therapy: Assessment, Intervention, and Co-Morbidities June, 2016
Level 3 Clinical Training Gottman Method Therapy September, 2016
Treating Affairs and Trauma Drs John and Julie Gottman November 2016
Couples & Addiction Recovery Services November 2016